Today we tip our hats to three double "E" authors, - Edward Eager, Elizabeth Enright, Eleanor Estes. Old-fashioned, magical, a taste of a simpler time - here are three authors that I thoroughly enjoy.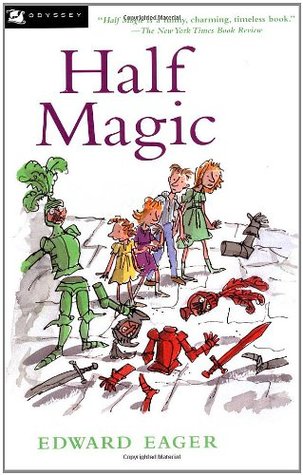 In the mid 1960s, I picked up
Half Magic by Edward Eager
( 1911- 1964) and discovered magic that was NOT consigned to the long ago and the far away. The magic coin that four children find only grants half of each wish - a desert-but-NOT-an-island, a-cat-who-talks-but-can't-be-understood, and a trip home for their mother that only gets her half way home. The children lived in a recognizable relatively modern (to me) world. I was hooked. Quirky and fun, Eager's novels have stood the test of time.
NOTE: I had already discovered E. Nesbit (an E author but NOT a double E) and
her
"magic in the modern world" novels. HER modern world was my long ago and far away world so, to me, Edward Eager's books were a revelation.
This cover is the first edition, drawn by the author.
Elizabeth Enright
. I found
The Saturdays
when my son was young. We read the entire Melendy family series in a swoop. Years later, I borrowed an audio book of
Gone Away Lake
- what an adventure. Enright's children are not run-of-the-mill children. They are slightly precocious, or brighter than most, or somewhat talented, or overly shy. Each character has something about them that makes them appealing to young readers. Their adventures are the leaving-the-house-without-telling-anyone type of adventures, with unexpected rewards and appropriate repercussions. Or in the case of A Spiderweb for Two, adventures created by a loving older sibling for the younger ones left at home. Love!!!💕
Enright won a Newbery Medal for
Thimble Summer,
written in 1939 and a Newbery Honor Award for
Gone-away Lake
.
Eleanor Estes
- Much to our neighbors chagrin, my son and his friends decided to build a museum on the front porch. They include artifacts left over from a nearby construction site, and dug up in the garden. It was lovely and fun and kids from blocks away stopped by to see what the boys dug up. I wonder, (chin tapping ensues) where my son got that idea. FROM THE MOFFATS, another lovely free-range family with a wonderful parent. It is toss-up - for me - whether
Rufus M
. (in which Rufus gets his first library card - more hearts here!💞) or
The Moffat Museum
is the best book in the series.
We can't forget Estes' awards, a Newbery for Ginger Pye and Caldecott honors for
The Hundred Dresses,
illustrated by
Louis Slobdokin
and the aforementioned Moffat titles. The Hundred Dresses is a heart wrenching story of how a child is laughed at because of her poverty and how the main character just sits by and watches. The book is often held up as a opening into a discussion of bullying.